Evaluate and enhance your cyber defenses
Immerse yourself in a sophisticated cybersecurity simulation that prepares you for real-world threats.
Complex concepts in straightforward, business-focused metrics
In today's rapidly evolving cybersecurity landscape, organizations need more than just robust defense mechanisms. They require clear, actionable insights to understand the effectiveness of their cybersecurity efforts, align them with their business goals, and demonstrate a return on investment (ROI). Batuta Measure fills this need by transforming intricate cybersecurity data into straightforward, business-focused metrics.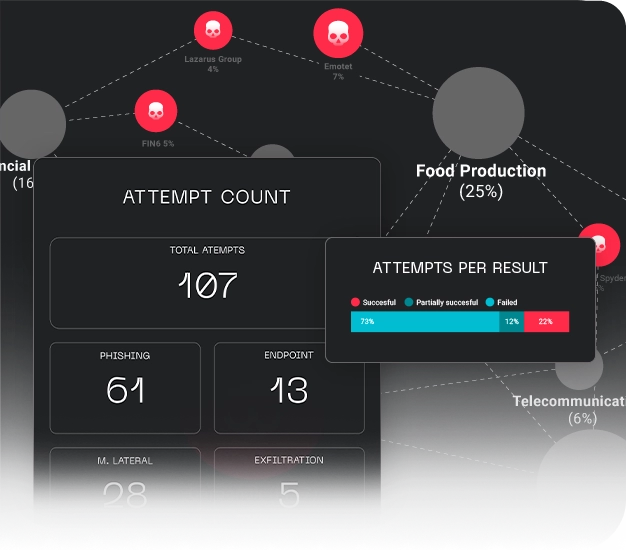 Real-world attacker behavior
Our solution facilitates real-world scenario simulations and compliance checks, presenting a clear picture of how your defenses would fare against actual threats. This empirical data-driven approach not only empowers you to fortify your defenses but also provides actionable insights for strategic decision-making.
Challenge Your Defenses, Safely
Batuta APT Simulation utilizes the globally recognized MITRE ATT&CK framework to simulate breaches and attacks in a safe, controlled environment. This enables you to assess your defenses' efficacy, understand potential weaknesses, and develop effective remediation strategies.
Transform Compliance into Competitive Advantage
Batuta Compliance conducts comprehensive audits of your cybersecurity landscape against international standards like PCI, CIS, and HIPAA. This ensures your compliance with regulatory requirements, builds trust with stakeholders, and avoids potential penalties.
Elevate Your Cyber Defense Capabilities
Batuta Technologies serves as a platform that integrates effortlessly with various third-party cybersecurity tools, offering a unified, comprehensive view of your cybersecurity defense network. With its seamless integration capabilities, this module empowers your defense mechanisms, enabling you to effectively level up your cybersecurity operations and stay a step ahead of threats.